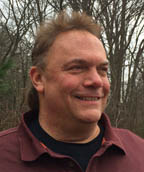 Christopher Arnold, LMT
Education & Certifications:
Expert Therapist, John F. Barnes Method.

John F. Barnes Method, Myofascial Release seminars and seminar series completed:
July 2018, Fascial Cranium course (Advanced training)
Autumn 2017, Quantum Leap, (Advanced training)
Autumn 2017, Subtle Energy 1, MFR 3 (Expert level course)
Summer 2017, Cervical Thoracic repeat and review
Spring 2017, Myofascial Release 1 repeat and review
Spring 2017, Therapy for the Therapist (2 week treatment intensive at the Malvern PA office)
Spring 2017, Myofascial Unwinding repeat, review
Autumn 2016, Fascial Pelvis repeat and review
Summer 2016, Skills Enhancement Seminar (45 Hour intensive advanced training and review)
Summer 2016, Cervical-Thoracic, Myofascial Rebounding, Advanced Unwinding
Summer 2016, Fascial Pelvis, Aquatic Unwinding, Myofascial Treatment class
Spring 2016, Myofascial Healing Seminar
Summer 2015, Myofascial Release I & II, Myofascial Unwinding.
Certified Licensed Massage Therapist. Spa Tech Institute, Westbrook, ME 2004-2005

Massage Therapy Instructor:
Massage Instructor, Spa Tech Institute, Plymouth, MA 2013-2016

Work Experience:

Founder: Maine Myofascial Release, Winthrop, Maine
Founder: South Shore Myofascial Release, 1 Miller Drive, Plymouth, MA Founder, 2015 - Present
Founder: Simply Bliss Massage Therapy, Owner, 2009-2013
Self Employed Massage Therapist: LaVallee Chiropractic, Augusta, ME 2008-2009
I grew up on the south shore of Massachusetts, have lived in Maine for several years and became a massage therapist there. I am licensed in Maine as well as Massachusetts. I enjoy the privilege of serving clients, friends and neighbors in my offices and at their homes. I enjoy travel, broadening my knowledge of the body and fascial system, and attending continuing education courses.
I now hold the title: Expert Myofascial Therapist, an accomplishment I am very proud of!

email: SouthShoreMFR@gmail.com